Dear Ladies and Gentlemen!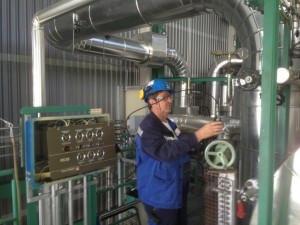 We are an Austrian-based company with many years' of experience in "valve-services"! Our services cover the disassembling, cleaning, loop-in, renewal and assembling of all seals and packings. The verification of used fittings can be done by a mobile test rig or directly on your plant! With especially designed tools of EFCO (VB-toolbox, VSK, SL, VALVA etc.), we are able to overhaul all your fittings in installed condition! Further on, it is possible to verify e.g. the set pressures by a mobile test rig and proceed inspections trough the "TÜV"! After commissioning of welded safety valves, it would be possible to determine related set pressures by a "mobile-testing"! (TÜV inspection)! Of course, we overhaul all kinds of shut-off fittings (manual- or motorized) and also all kinds of slide units and control fittings (manual/pneumatic/electrical-operated)!
Since 28th of December, 2016 we are officially certified for TÜV inspections.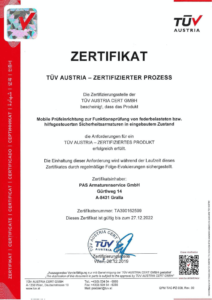 We hope that we have aroused your interests and would be pleased to be permitted to work for you as a contractor in future!
Referenced projects: ENAGES TRV (Restmüllverwertung)-Niklasdorf, KRV (Kärntner Restmüllverwertung)- Arnoldstein, Welsstrom, EVN, FUNDERMAX, MM-Karton Frohnleiten, Verbund, Energie Stmk Wärme GmbH, Linz AG, Wien Energie GmbH, Norske-Skog, Heinzel-Pulp Zellstoff Pöls AG, Lenzing AG, Salzburg AG, Holzwerkstoffe Egger GmbH, Smurfit Kappa Nettingsdorfer, VA Stahl Linz/Donawitz, MONDI-Frantschach, HEP-Croatia (KW Rijeka, KW-Plomin), Oudegem Papier N.V./Dendermonde B, Vattenfall Velsen Noord NL, KW-Guiteras/Mantanzas/Kuba, TAG-Trans Austria Gasleitung GmbH, Evonik Peroxid GmbH, Wolfram Bergbau und Hütten AG, AustroCel Hallein GmbH, Fresenius Kabi Austria GmbH and many more!
For further informations, please do not hesitate to contact us.
Yours sincerely,
Ing. Sebastian Prutsch
CEO